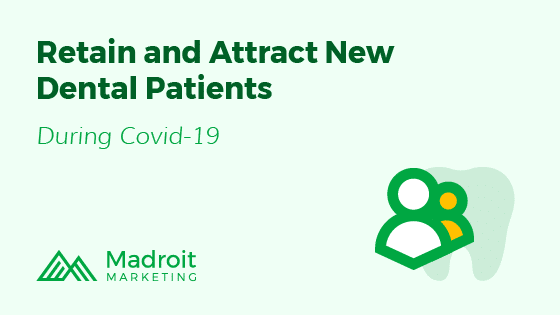 Going from seeing patients, to not seeing any patients, to then to seeing some patients has made it a roller coaster year so far. Hopefully you've seen many patients return but there are plenty of challenges to come with retaining and attracting new patients. People are unsure about a lot now, meaning there are opportunities to lose patients as well as attract new ones.
Let's start with patient comfort and move into how to make the most of this for yourself, team, and patients.
Not Everyone Is Comfortable Enough to See You, but They Can Be.
There is so much information out there and it's hard to know what people are feeling so make people comfortable to see you. How?
Show what you're doing to keep your patients and team safe. It goes a long way and builds trust.
Repeat yourself online. Not everyone will see your Facebook post or see the pinned post at the top of your Facebook page.
Post where new patients looking for a dentist, as well as potential patients, can see it.
Where to Post?
Make sure you're covering the most important bases when posting. For Dentists, that's usually Google (Google My Business), Website, and Facebook.


1. Google (Google My Business)
Yes, you can post updates on your Google My Business (GMB) profile! It shows people (and Google) you're being proactive.
Make sure you have a GMB profile, it's crucial for showing up in search results locally. Learn more about Local SEO.
2. Your Website
It's the first place a new patient will look, if you don't have info about what you're doing for safety then you're missing opportunities. Make sure your website is mobile friendly too as 50% or more of people will look for a dentist and your site on their phone. 
People are sick of Covid Pop-ups and everyone is aware of it. Our recommendation is to create a simple banner for it and link to a full page to your website that lists your safety precautions.
We did this and included information about the Pro Bono project we were original founders of called 3DC19. See our Response to COVID-19 and 3DC19
3. Facebook
Regular Facebook posts about your safety precautions will help more people see it, don't simply repost the same thing though. Take pictures or videos of the different steps you're taking more often. You can link back to your website to give the full details.
Not everyone wants to see Covid related content in their social media feeds all of the time either so keep up with your social media marketing by making it fun, educational, and helpful.
Need help? Check our free Complete DIY Guide to Social Media for Dentists or learn about how we can help you with Social Media Marketing.
Bring Patients Back
Did your patients cancel their appointment or simply not reschedule the ones they missed? You can bring them back but they might be on the fence about it.
Ask them. (too easy and you've tried that?) Give them some info they can trust to make them feel comfortable.
Ask via call or email/text
Share why it's important for their oral health.
Share what you've been doing to stay safe in 1 or 2 sentences.
Share a recent review (with a screenshot) with someone who commented how safe you have been. Another way to benefit from Reputation Management.
Share the page link to the safety precautions on your website.
What about attracting new patients though? Are people looking for a new dentist right now?
Can You Attract New Patients Right Now?
Yes! There are big opportunities with plenty of people who are looking for a dentist or looking to switch to a new dentist right now.
How though? You have options.
1. Get Awesome Reviews, It Helps
Ask for reviews. It helps people find you online which helps attract new patients. Positive reviews are a ranking factor for search engines so by getting great reviews you increase your chances of ranking above other practices around you.
You can get great reviews when people see and feel how seriously you're taking their overall health as well as their oral health.
2. Show up At the Top of Google Organically
Showing up at the top of Google is a huge advantage.
The best spots are in the local pack. It's critical that you show up when someone searches for a dentist in their area.  This is a big factor in Local SEO and having positive reviews helps.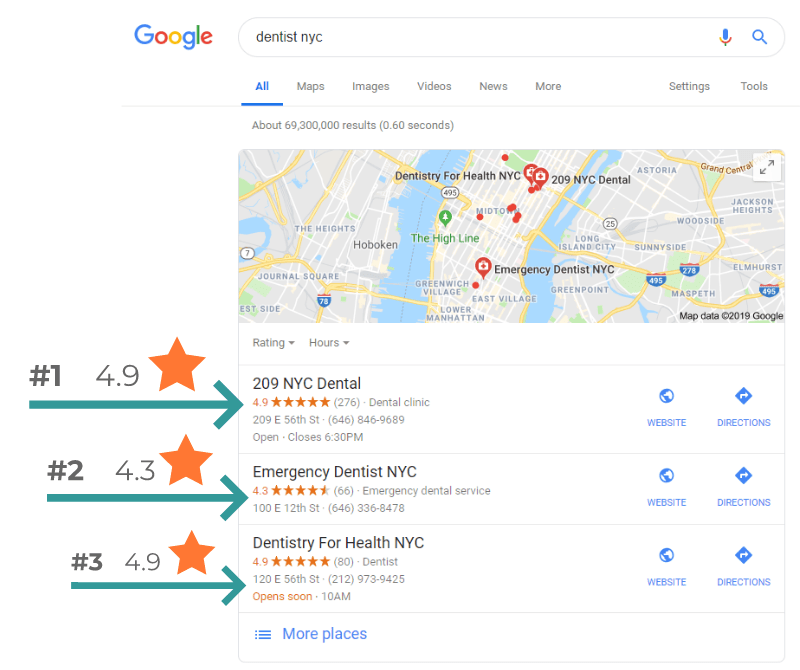 Positive reviews make 68% of consumers more likely to use local businesses.
Negative reviews stop 40% of consumers wanting to use a business.
Learn more about in our Online Reputation Management article.
3. Pay for The Top Spot
You can certainly pay to show up and be chosen by new patients. Pay Per Click (PPC), unlike organic SEO, you can pay to show up at the top of Google. It will cost more than SEO but it's fast and if you're already showing up in Google organically, you can increase the likelihood of them picking you by taking up 2 spots at the top of Google. Learn more about PPC.
There are big opportunities to attract new patients right now and critical to retain patients but you can absolutely do it!
You Can Retain and Attract New Dental Patients!
Let's talk about retaining and attracting patients for your practice.
Contact us for your free consultation.