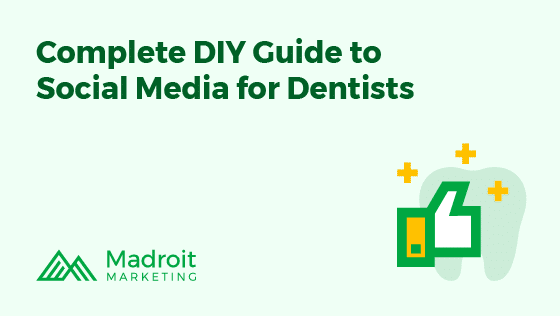 With everything going on right now and dental offices being limited on how many patients they can see at a given time, there are many changes.
We Understand and Want to Help
Dentists are cutting costs where they can. We understand this and want to help you and your practice with ideas of how to cut costs while helping you not only recover, but grow.
One of the first things to be eliminated for most small businesses is their marketing and we know that it's important to keep up with marketing and not go away from it just because times are tough. The best practices that come out of times like these put time and energy or money into marketing effectively.
Typically, one thing to go is social media, but you can keep your social media without a marketing agency going and help grow your practice. Social media is a great tool for you and you can do on your own if you're up for the challenge!
Benefits of Social Media Marketing
If done well, social media can help grow your practice and be a great source for new patients. The benefits should be tied to some clear goals and performance indicators.
71% of people who have had a positive experience with a business on social media are likely to recommend the brand to their friends and family. Oberlo
Some primary goals and performance indicators dentists should realize when engaging in social media marketing are the following.
Increased new patient acquisition via referrals
Enhanced online visibility – show up more in search engines (SERPs) See Local SEO
Improved recall and reactivation percentages
Obtain more online reviews See Reputation Management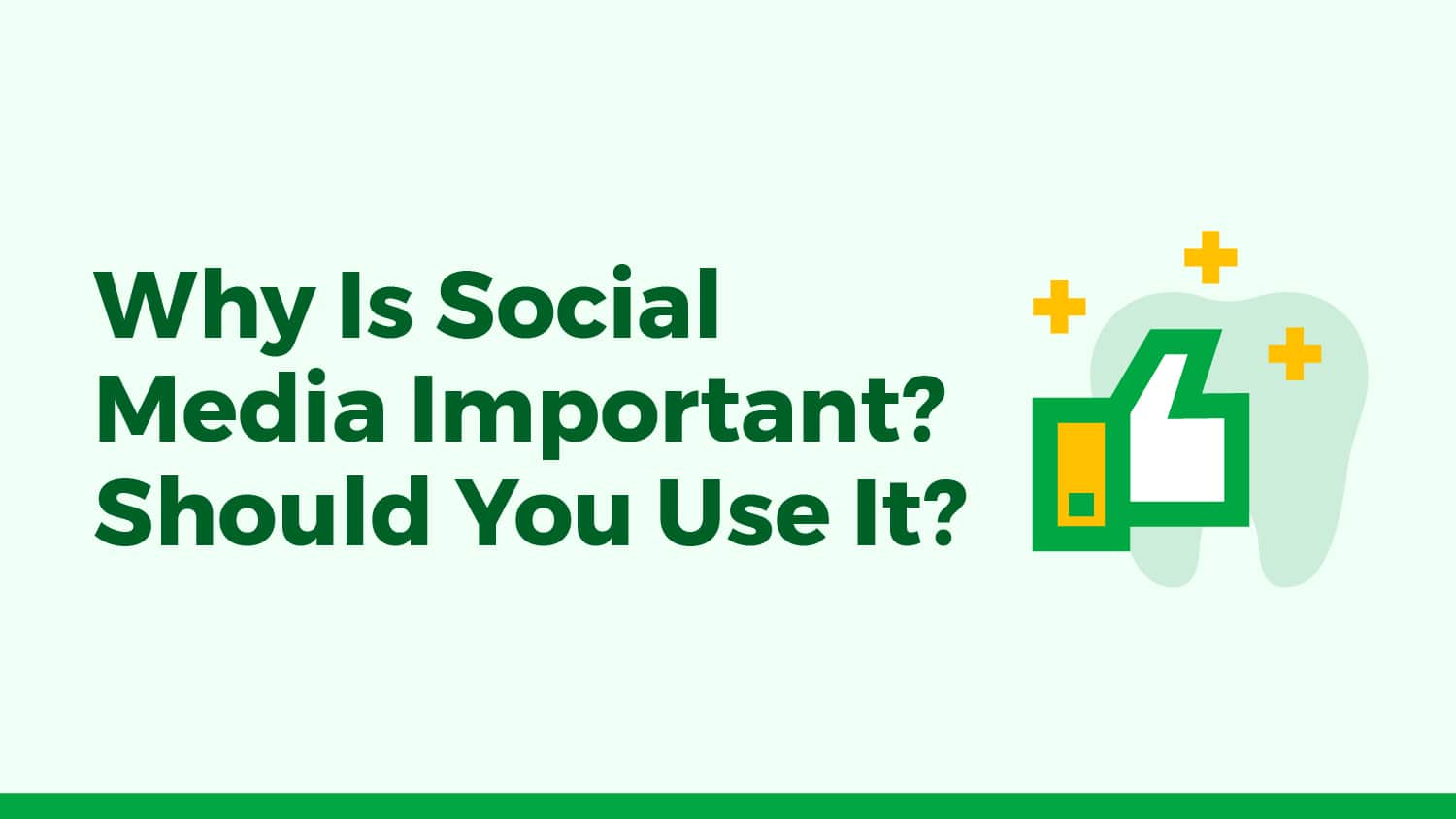 Why Is Social Media Important? Should You Use It?
74% of Facebook users check it daily. Pew Research Center
Social media marketing can be a great place to try to reduce costs, but still utilize it in an effective way. Social media is becoming more and more pay to play. That means to reach your full audience, you have to pay to promote your content, otherwise, it won't get to your whole list of followers or reach people who don't follow your practice's page. There is a way to get more out of organic posting (non paid) content though.
When you create content that's valuable or highly engaged with on your page, it reaches more people and can help grow your practice.
When done effectively, you can stay top of mind, continue to help and educate your patients between office visits.
You and your team can do some great social media marketing in house but it's important to understand why you are doing it. What is the purpose of it?
Gain both visibility and new patients?
Build credibility and manage your reputation?
Communicate and strengthen patient relationships?
Have some fun with your team?
What else is important to your office's needs?
We believe 99% of dental practices would benefit greatly and should be on social media but knowing where to start can be hard to decide. Determine what your purpose is and get ready to start!
Where to Start with Dental Social Media
To DIY or Not?
Do you want to try or improve your social media marketing for your dental practice? Take some time to review and plan how to make the most of your efforts.
Decide how much you're going to do yourself and how much you'd like to outsource, whether to a professional or to a team member (or a combination of the two).
Choose social platforms that will work well for your practice. Great marketing on 1 platform is better than okay marketing on 3 platforms. Make your social media platform choices based on where your target audience will be the most engaged.
Decide on who and how much time you will dedicate to social media marketing. We recommend assigning someone on your team who will be good at managing your social media presence and who will enjoy doing it but without getting too distracted from their main responsibilities.
Recruit whatever level of help you need from a professional individual or team. When you're getting started, invite your team, colleagues (who aren't competitors), and friends to follow your accounts.
Ready to start?! Here are some tips that will allow you to create a content plan.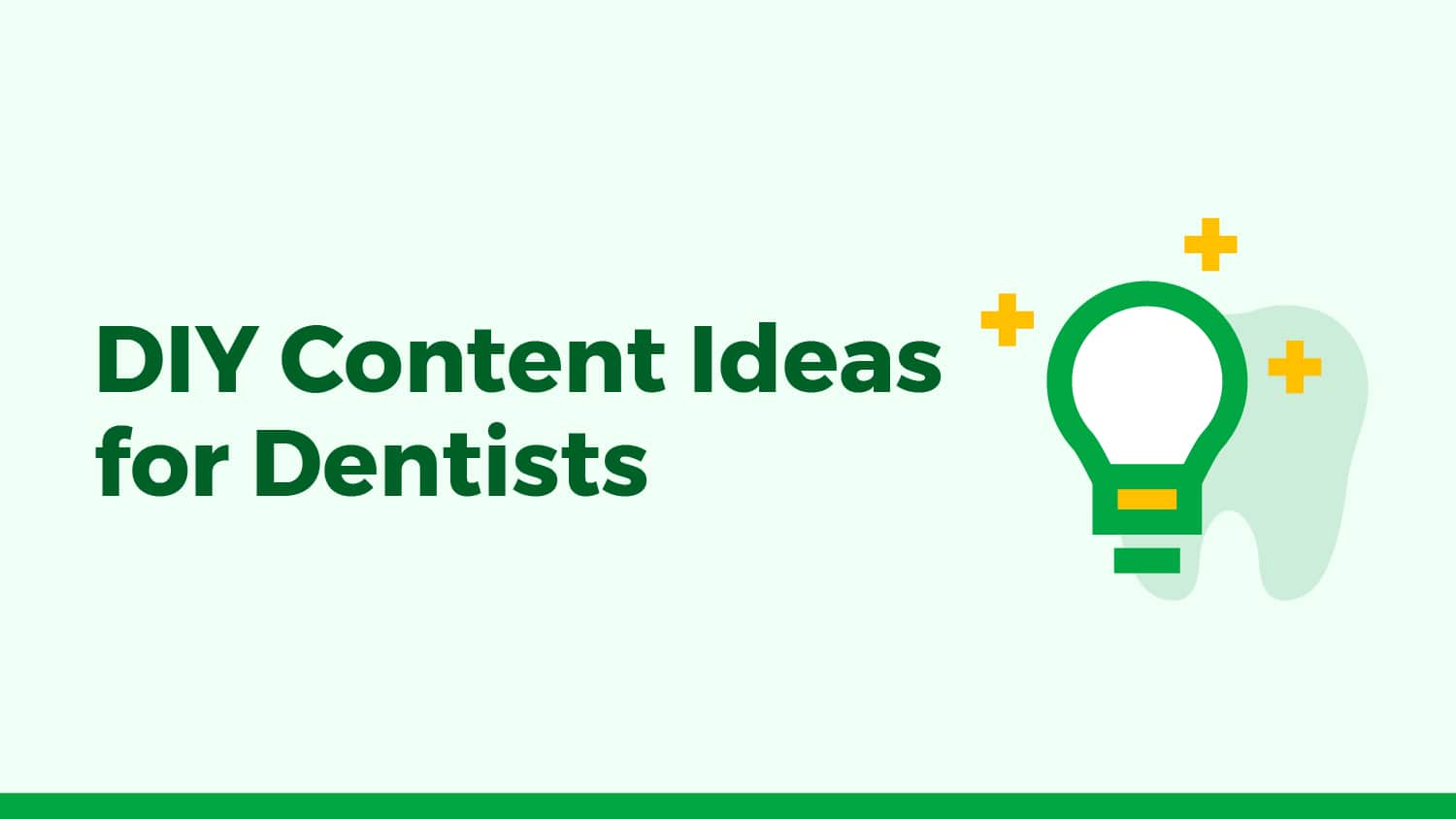 DIY Content Ideas for Dentists
We've created a list to kick things off so feel free to adapt the ideas to your practice and add your own to it.
Posting birthdays of team members (include a picture).
Posting anniversary celebration dates of someone in the office.
Someone joining the your team and introducing them to your patients by putting them in your social media post (ask for permission first).
Other days like national holidays that relate to health and then national holidays that relate to the medical industry.
Group photos of fun office gags/pranks/jokes.
Posting pictures of the safety precautions you're taking through this time.

You're spending a lot of money on all of the new PPE. Try to use it and show it off to show your patients how much you're putting into their safety. It will make them feel more comfortable coming into the office. Talk about the procedures that you would take for seeing patients. Whether that's having them wait in their car, checking in on their phone, and you would call them in. Or showing them how you're wiping down the waiting room, or you're not using the waiting room etc.

Show how you're going paperless and how they can fill out paperwork on their phones or on a tablet in the office. Include how you're keeping the tablets wiped down after each use.
Share some of your best reviews from patients. Include an image if they allow you to or simply post a google review in a nicely designed graphic.
Thanking your hygienist, your front office team members on any given day just throughout this time, thank them with a picture.
Share that you've been having regular zoom meetings with your staff to keep them informed and up to date. (add a screenshot of everyone on the call).
Post a pre-recorded or live video on your social media platform letting them know that you are still seeing patients and how great it is to see everyone. It's good to see positive things going on in the office and will make your patients feel safer about being at your office.

67% of consumers consider video to be the most transparent type of social media posts. Sproutsocial

As you do start seeing patients again – take pictures of how you're social distancing.

Show patients in the office (or the parking lot) just to show that others are coming in. It's good for morale and good for building trust back up as people can be unsure of the current situation. Once patients see that others are safe and you actually have other patients in the office, it will make them feel more comfortable to reschedule that appointment or new patients to join your practice.

You can make other types of videos in order to engage with your audience as well. Other videos include: how to brush your teeth, how to floss, and how often you should visit the dentist. All those things from the doctor are very helpful for patients and it's great for them to see the doctor or hygienist showing them versus some other person that they don't know and it builds a lot of trust.
Those are just a few ideas but there are so many great ways to connect with patients. What ideas do you have?
Content Types and Frequency
You won't get far with only posting selfies, you'll need to mix in and have a few post types to use and rotate through.
A great mix would be educational content and fun, personal content that engages people. You can ask once in a while for your audience to take action, whether it's signing up for an appointment, brushing their teeth regularly, reviewing your practice online which is great for reputation management.
Different Kinds Of Content
The content you share should be fun personal things as well as educational content on your website that you can then use to share on social media. Not mandatory, but it's helpful if you can write and talk about that on your website. It shows and builds trust with your patients and potential patients. And it's great for SEO if done right and you will get more out of marketing efforts.
Something to keep in mind is who you're marketing to on social media. Each platform has it's advantages and core demographic. Decide on who and what you will post.
90.4% of Millennials, 77.5% of Generation X, and 48.2% of Baby Boomers are active social media users. Oberlo
Now that you're ready to start creating and marketing your content, here are some helpful tips to market yourself and look professional while doing so.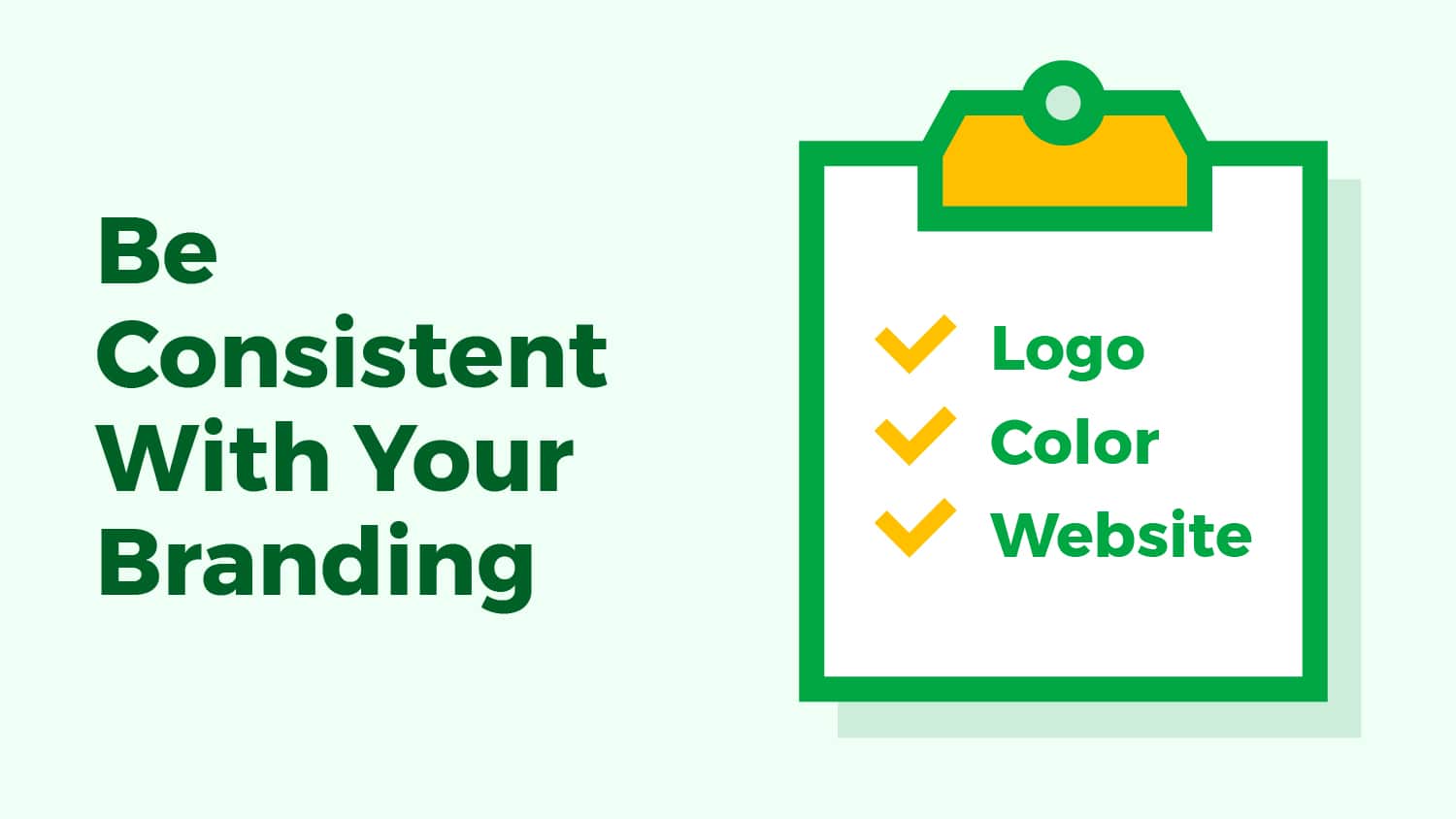 Be Consistent With Your Branding
It's worth noting that social media is great but your website is something everyone has access to and can see whereas your social media is only being seen by people on that platform. It's important that your website lines up with your messaging which will help you in your social media marketing efforts.
Make sure your social media matches your branding on your website. Your identity as a practice – use colors and graphics that match your branding.
Make sure your social media is listed on your website and the links actually work. (We see a lot of broken links with dentists who switch to us for their website and marketing)
Make sure your website represents who you are – it doesn't necessarily need a large quantity of content about procedures that you perform. Listing the services are great, but having them see who you are with a great branded image of the doctors, hygienist, front office, and the people involved is a great show off on your website.
Does your social media brand match your website and brand?
Your site should match and it should be fast when people go to it!
Check out our free website migration and deferred payment. Hassle free website hosting that speeds up your website.
We can help redesign and brand it to wow your patients!
Tips On How To Get The Most Out Of Your Social Media
Let's get the basics down so your social media brings new patients, not lose them.
Taking Great Pictures (Even With A Phone)
Pictures are what draw the attention of your patients or potential patients, follow these tips on how to take pictures in order to engage with your patients:
Take images sideways (unless it's specifically for Instagram)
Take more than one photo
Set your camera's focus
Focus on one subject
Embrace negative space
Smile
Look for symmetry
Crop images to remove unneeded or distracting objects
Have good lighting (nothing ruins a photo quicker than poor lighting)
Formatting Your Post
The format of your social media posts is important because you want to draw the attention of your audience. A poorly formatted post makes it harder to read and can distract from great content that would otherwise get much more engagement.
When writing the text it's important to write easy to understand information. Make sure that everything is spelled correctly and you have proper grammar (mistakes happen though). Most of the time when someone is scrolling through their social media they pay more attention to your picture attached to the post.
In order to get more visibility, you should use as many relatable hashtags as you can without going overboard. 2 to 5 hashtags would be a good amount. You should also tag other businesses when appropriate. This means their followers will also see your post on their page. The more exposure to your post, the better!
Best Time To Schedule Your Posts
Trying to find the right days and times to post can be difficult. If you search google, you'll read 100 different suggestions all saying different things. It depends on your audience, so think through when they would be online and test it out. Try a few things that you think work and then reevaluate and keep adjusting to maximize your exposure and engagement.
Most people access Facebook around 8 times each day. SmartInsights
It's hard to know when the best times to post on social media are and it changes regularly. The times vary for different businesses and different social media types. If you're stuck and want a basic schedule to start with on Facebook try the following.
Basic Starting point for Facebook Post Scheduling:
Mondays between 11am – 2pm and 4pm – 8pm
Tuesday between 10am – 3pm
Wednesday between 10am – 3pm
Thursday between 10am – 3pm
Saturday/Sunday between 8am – 2pm (keep these posts fun though)
It's important that once you post you have someone ready to engage with the posts if you get comments or questions.
Engaging With And Responding To Posts
When you post something, you start a potential conversation. When someone comments on it, that is their reply. It's important that you like, comment on the first comments and as many as reasonable after that.
It helps the post reach more people and helps you connect with the people who started a conversation with you.
Make sure you and a few people in the office have access to the social profiles and can reply to patients.
Pro tip: If someone complains or is upset, try commenting to them to bring the conversation into private massages or a call. It shows others you listen and care and makes that person feel heard which is sometimes enough to defuse any situation.
Review Your Progress Regularly
It's important to know how well you're doing, to do this you should monitor your progress regularly.
Set up reports so you can decide what is and what isn't working. Be ready to adjust and keep moving, not every post will get a oodles of attention but you can keep improving to reach more and more people to bring them into your practice. The hardest part is starting.
Go And Get Started With Your Social Media
Social media can be a great tool for you and it's something that you can use to help promote and market your practice without outside help and costs.
During this time we know that it's tough to run your office plus market yourselves to attract new patients. We've seen some of our clients do really well with their own social media. Try out your DIY social media marketing and comeback for updates to this guide.
However, if you do want to focus on your practice and get outside help with your social media marketing, we are available to team up and help your practice grow.
We help dental practices grow with social media marketing to engage audiences and attract patients. Need help getting started?
Need help getting started?
Try out your DIY social media marketing.
We're here to help answer any questions that you might have or help with creating content or help you with running in maintaining your social media.
Contact us for your free consultation.