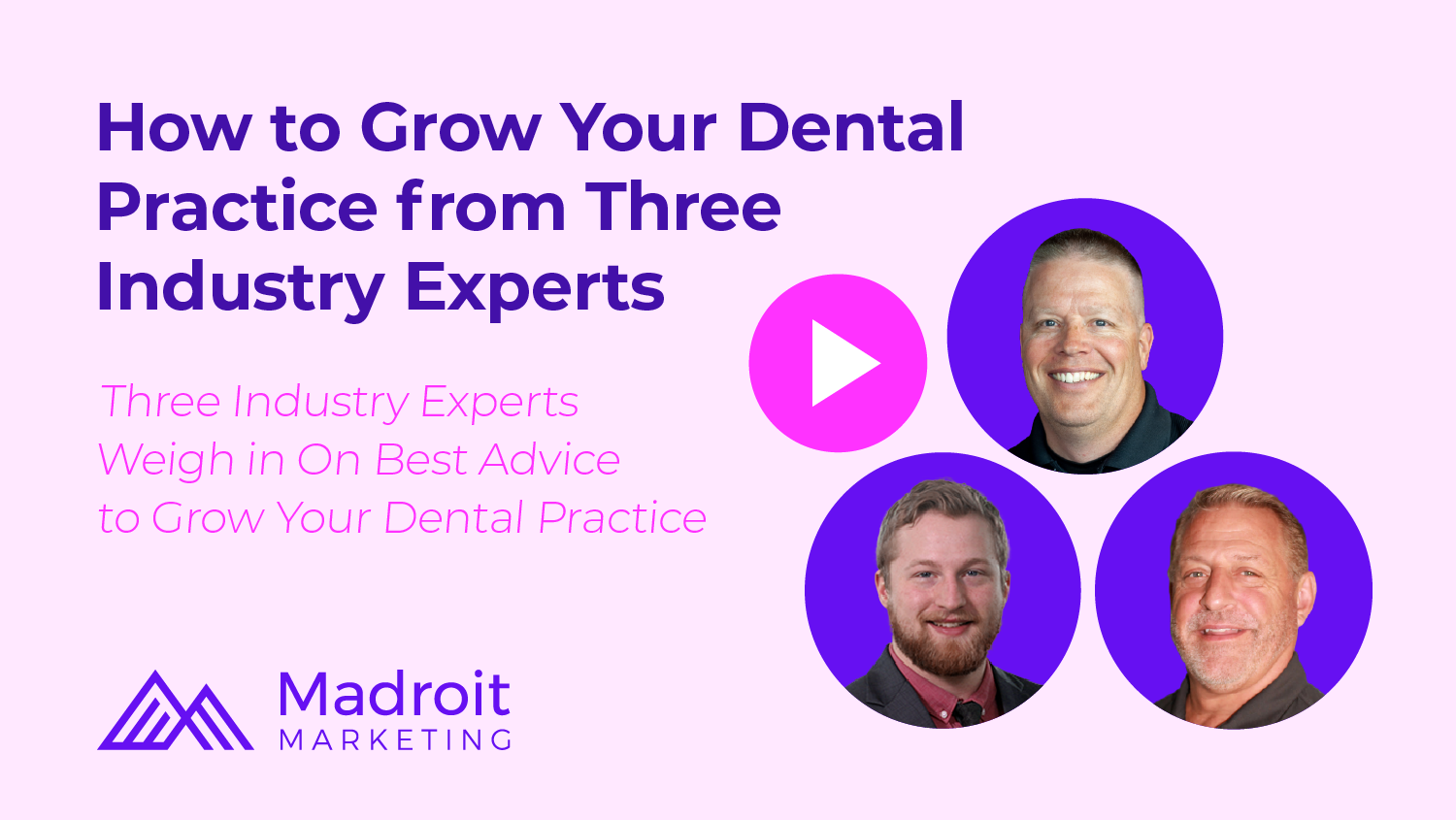 Growing your dental practice can be a challenge.
We'll give you some game changing help from 3 industry experts including the best piece of advice each of them give to dental practices.
Video from 3 Dental Industry Experts
Winston Hofer – Best Piece of Advice for Dental Practices
Make sure you show up online.
If people can't easily find you, it's hard to attract new patients.
That can be done multiple ways but ranking in search engines like Google  is crucial.
Learn more about Local SEO in our recent blog and video.
What Is Local SEO? Why Does It Matter For Your Business and How Can I Start? (Video)
Winston Hofer is the founder of Madroit Marketing who helps dental practices with marketing to attract new patients.
We help dental practices set up their branding and make sure people can find them plus so much more!
Winston Hofer
Madroit Marketing
Founder/Marketer
Contact him or book a call!
Mark Lounsbury – Best Piece of Advice for Dental Practices
Make sure you're efficient when it comes to inventory and ordering and know your numbers.
Best piece of advice is to know your numbers.
For your numbers, we're not just talking supplies, but as business in general.
Have a good plan.
Know what your break even point is each month.
Know what your overhead is, again, related to supplies but to the lab and to other expenses too.
Mark Lounsbury has been a rep for Benco Dental for 21 years!
He makes it easier, faster, simpler, but also keeping in mind your bottom line and keeping them at or below 5% of their gross production spent on supplies.
Mark Lounsbury
Benco Dental
Sales Representative
linkedin.com/in/mark-lounsbury
Phil Cole – Best Piece of Advice for Dental Practices
Know your numbers.
You know when it comes to the coaching side of things many times, doctors don't monitor their KPI's which are key performance indicators. Many doctors don't even know what key performance indicators are.
With their monitoring system and coaching, they help implement and make sure that over 120 KPIs are being looked at on a regular basis and being maintained. When you have that situation where you're monitoring those then you can see when things start to slack, how to quickly fix them or you can also see how fast things are moving to prepare yourself for maybe the next level.
Bring in an associate. Maybe bring in another hygienist. Seeing how many new patients you're getting and knowing what to do with those right away.
For transitions and for real estate, once again, knowing your numbers to be able to decide when is the proper time to retire.
Can you retire earlier than expected? Is your practice ready for a transition so that you're maximizing your dollars on that practice instead of selling it in despair because you waited too long and now you just get what you get.
In those scenarios, just knowing your numbers, knowing exactly what your value, your worth is when it comes to those things is a major, major benefit to you in making sure that you're maximizing your personal dollars.
For coaching, it allows for dentists to be able to take their practice to the next level. To be able to make sure that all their systems and programs are in place, working like a fine tuned engine.
For transitions and real estate, it allows, what we, where we help the most, I should say is, the fact that we're able to help them have a simple, transparent transition and with the real estate to be able to make sure that they're maximizing the value of their practice.
Help them out with their lease negotiations. But many times, when it comes to the real estate, commercial real estate agents will subject that piece of property to just a normal commercial property and with it being healthcare we can draw out some better dollar amounts.
Phil Cole with Klas Solutions helps dental practices with coaching, transitions, realty and so much more.
Phil Cole
Klas Solutions
CEO \ Mentor
www.klassolutions.com
Reach out to these experts to grow your dental practice!
Talk to an expert about helping you attract new patients.
Contact us for your free consultation.