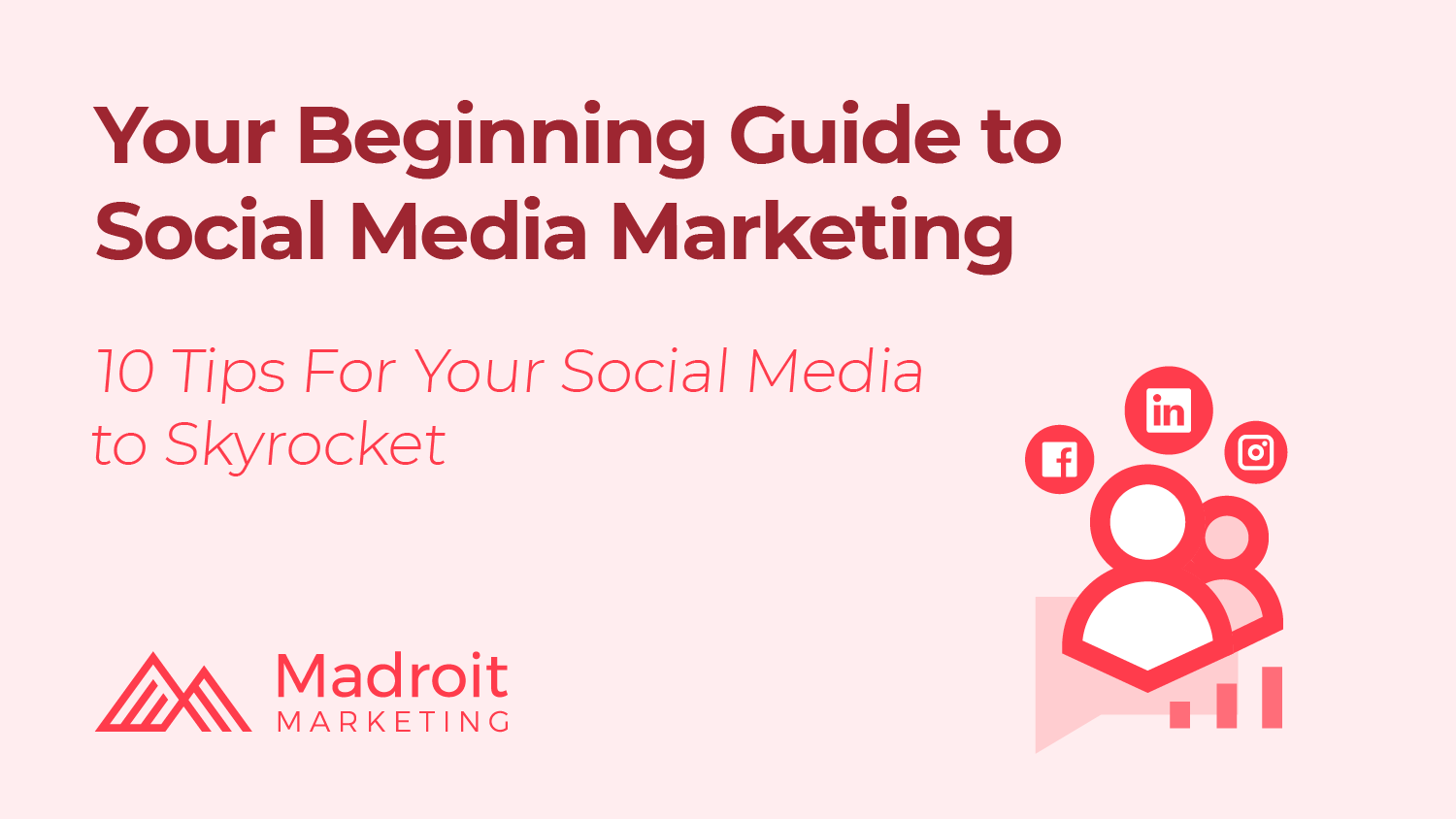 We live in a digital world where everyone is on social media now. It is important to understand how to effectively use social media to market your brand and bring awareness to your company.
There are multiple benefits to social media marketing such as:
Expand your brand awareness
Increase traffic to your website when you link it to posts
Promote your service or products
Connect with your audience
Stay at the top of your audience's mind
Generate potential leads
Provide great customer service
So how do you start getting the benefits of social media marketing?
We know there are a lot of moving components to social media marketing! That's why we decided to list out some of our 10 important tips and tricks you may want to take into consideration when promoting on these platforms.
1. The channel you use depends on your audience you need to reach
People think that to have effective social media marketing you need to be on every platform but sometimes more is not better. There is no point in advertising on every platform if your audience is always on Instagram – stick to the channel your audience is present in.
2. Republish and update old posts
If you have previous posts or visuals created from a couple of years ago or even a year ago – recycle them to use now! Republishing old posts with updated content is good for SEO while saving you time from starting at ground zero
3. Use visuals as much as possible
Visuals catch the audience's eyes and help tell your company's story. When you tend to have visuals you increase chances of engagement, traffic to your website, or potential conversions.
Visuals are pictures, videos, gifs, or link images – we offer a Visual Story Package you can learn more about to help your company!
4. When using visuals, each platform suggests different sizes
Each platform suggests a certain minimum and size that they feel best fits their channel and maintains quality resolution.
For example, Facebook recommends posts to be 1200 x 630 pixels with a minimum of 600 x 315 pixels. Facebook Ads recommends 1080 x 1080 pixels with a minimum of 600 x 600 pixels.
5. Schedule at various times of the day – including evenings
Most people think they must post during business hours of 9 AM to 5 PM. However, to reach multiple audiences, you should post at a variety of times including evenings and weekends!
Why? Well posting at various times of the day allows you to reach people in different time zones according to ideal times for them. Evening and weekend posts may have higher traffic due to people winding down and scrolling social media.
6. Create a content calendar
Having a content calendar brings multiple benefits to you such as:
Establishes a publishing rhythm
Allows you to schedule ahead for major events or holidays
See posts for the month on all platforms
Best for overall efficiency and organization
7. Include hashtags for engagement
The usage of a hashtag is to increase engagement rates. A hashtag allows a post to be associated with certain topics, purposes, and services, so when people search for that specific topic or purpose you may pop up on their feed.
You can use popular tags such as #socialmedia but it is good to also create your own so you can track your company's presence and see what others may say about you!
8. Create valuable content
People need to know they can trust you and your company. When using social media to market, make sure you are creating and using content that allows your audience three things:
Trust in your brand due to your increased knowledge in the industry
Sets you apart from competitors so they know why to choose you above any other company
You create a need or want for what you are offering
9. Pay attention to trends
This is important due to the natural state in which people and technology (or in this case platforms) want to be bigger, better, and broadcasted. As trends change, you need to be able to identify what is currently popular and how you can use it to your advantage for awareness.
10. Analyzing data to measure effectiveness and improve
When you look over the likes, shares, or comments you can see which posts get more engagement with your audience. You can use this data to your advantage by then further posting the content that receives more interactions.
Eventually, you may want to try out new visual and posting tactics to see what your audience likes and dislikes – after all it is about appealing to your audience!
We know that is a lot to remember, and it takes even more time than you might have anticipated when it comes to researching, creating, writing, and gathering data for social media posts.
If you do not have the time for that, Madroit Marketing will create the content for your business, plan the content, schedule it, and create reports of engagement to show you. We want to help you get your brand out there and show the benefit of choosing your company!
Get the brand awareness you need, with custom content to you, and little time on your part.
Are you ready to talk?
Let's discuss how social media marketing can help your business today!